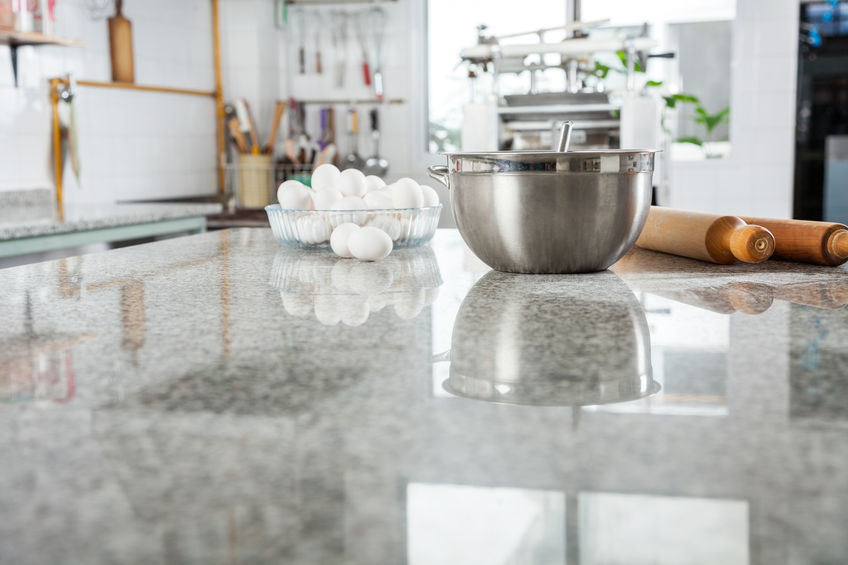 Time for a kitchen refresh? If you're considering updating your kitchen countertops with a low-maintenance surface, soapstone kitchen countertops are the way to go! A natural stone countertop, soapstone is 100% heatproof, so there's no worrying about cracks and burns to your surface. Soapstone is an excellent option for those who love to cook!
Here's what you need to know about soapstone countertops.
What is soapstone?
Soapstone is a natural stone countertop material made from about 50% talc and other minerals like mica, carbonate, and chlorite. Unlike most other stones that need to be polished and sealed, soapstone has the option of various textures.
Soapstone is highly heat-resistant, which makes it the perfect kitchen countertop. A soapstone countertop is also non-porous, which makes it stain-resistant. Soapstone is highly durable and won't chip, crack or burn. Soapstone countertops come in grays, greens, blues, blacks, and whites and, over time, turn a lovely patina.
Types of soapstone countertops
Soapstone countertops fit into almost any design style. Their versatility and ability to withstand high-use kitchens make them an excellent option for any home. Here's a look at some of the different types of soapstone countertops.
Black soapstone countertops
Black soapstone countertops give the kitchen a dramatic appearance. Elegant and bold, black soapstone blends seamlessly with other elements in your kitchen. Black soapstone countertops have a unique and classic appearance that can add sophistication to your space.
Black soapstone is easy to clean and virtually maintenance-free. This gorgeous material will last for years and serve as the perfect backdrop to your kitchen's design.
Green soapstone countertops
 Sourced from Brazil, the USA, and India, green soapstone is highly unique and aesthetically pleasing. Green soapstone is harder than other types of soapstone and can provide extra durability—pair green soapstone with oak cabinets for a rustic chic vibe.
Green soapstone has different varieties of designs which include:
Santa Rita
Santa Rita soapstone countertop features marble-like veins and a bluish-green background. Pair with simple white cabinets for rich contrast.
Fantasia soapstone
Fantasia soapstone has a marbled white veining that stands against a stunning light gray background. After the soapstone is oiled, the marbling becomes jaw-dropping, giving it an elegance unlike no other.
Belvedere soapstone
Belvedere soapstone has subtle veining on an ash-gray background. Harder than most other soapstones, Belvedere will not only take your kitchen's design to the next level, but it will be the workhorse that every chef desires!
Gray soapstone countertops
There are a variety of gray soapstone countertops available. A few options include:
Barocca
A very traditional soapstone, Barocca comes in an exquisite black color with white and gray veining. One feature unique to Barocca soapstone is its ability to darken over time. For a timeless kitchen, pair Barroca soapstone with clean, white cabinets.
Porto Allegre
Porto Allegre is Brazilian soapstone that features a bluish-gray background and striking veins.
Python
This unique soapstone countertop features a gray background and subtle veining.
White soapstone countertops
White soapstone countertops are not necessarily white. Soapstone is often available in darker colors, and the white soapstone color could result from color inversion. White soapstone features a white background accompanied by dark veining.
Soapstone countertops are durable, stain-resistant, heat-resistant, and aesthetically pleasing. One of the best options for kitchens that get a lot of use, soapstone requires little maintenance. A myriad of gorgeous colors will seamlessly fit into any design aesthetic, making your kitchen one of the most coveted rooms in the house. Some of the most common countertop colors are black, gray, white, and green. We would love to help you with your kitchen design! If you would like more information about soapstone, get in touch with us today.